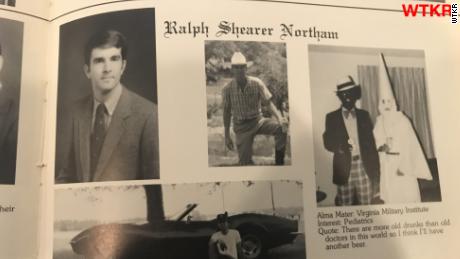 Virginia Governor Ralph Northam on Saturday resisted mounting pressure from his Democratic party that he resign, denying that he appeared in a racist yearbook photo while admitting he once wore blackface in a dance contest.
The Governor of Virginia, in the United States, Ralph Northam has issued an apology after racist pictures from his 1984 student yearbook were made public.
The yearbook image was first published Friday afternoon by the conservative news site Big League Politics.
The Virginian-Pilot newspaper tweeted a picture of the page which it said it got hold of via the medical school library.
Despite his apology on Friday about the "photograph of me from my 1984 medical school yearbook in a costume that is clearly racist and offensive", Northam backtracked by telling the state Democrats he didn't believe the yearbook photo was of him, according to reports.
He later issued a video statement saying he was "deeply sorry" but was still committed to serving the "remainder of my term". It's 2019, 35 years later; what Northam thought was in good taste when he was 25 says next to nothing, I think, about his beliefs and actions today, when he is 60.
"He should have said that yesterday then", said state Senator Louise Lucas, D, who was among the lawmakers who received a call from Northam today.
In a statement Friday, Virginia House Democrats said they were "deeply saddened by the news" and "are no longer confident in the Governor's representation of Virginians". "While it's in very poor taste, I would think there is [probably] no one in the General Assembly who would like their college conduct examined".
Markos Moulitsas, the founder and publisher of the liberal blog Daily Kos, also called on Northam to step down, saying his "racist med school antics have no place anywhere in America". "We stand with Democrats across Virginia and the country calling him to immediately resign".
The official was not authorized to speak on the record to detail a private conversation. Northam's term is set to end in 2022.
Rival rallies begin in tense Venezuela as air force general defects
On Saturday, Maduro said he was willing to sit down for talks with the opposition in an effort to promote national "harmony". European Parliament lawmakers recognized Guaido on Thursday as the acting head of state.
Groundhog doesn't see his shadow, predicting early spring
The origins of Groundhog Day date back to the early days of Christianity in Europe, according to the Pennsylvania Tourism Office . Even if Phil's prediction turns out to be inaccurate, the weather is expected to warm up during the weekend .
Fox defends decision to play tournament
Referring to this week's tournament, he added: "It's the start of many good things that will happen in Saudi, not only in golf". It wasn't something we're proud of or sponsored by the government.
Mr Northam was elected governor of Virginia in November 2017.
That said, Holsworth said that Northam admitted that if he can not govern, he will have to revisit the issue.
Northam's statement did not include a response to calls from both Democrats and Republicans that he resign.
"He's losing even more credibility", she said.
Northam then defended her comments.
Additionally, the governor said that the three other photos on the page were submitted by him.
"As we commemorate 400 years since the first enslaved Africans were brought to Virginia, it is painful to experience such a searing reminder of the modern legacy of our nation's original sin", he continued.
Earlier in the day, others also called on him to step down. Elaine Luria and Abigail Spanberger of Virginia; the NAACP and Planned Parenthood.
News of Northam photos comes a week after Florida's secretary of state resigned after photos from a 2005 Halloween party showed him in black face while dressed as a Hurricane Katrina victim.
The governor's race that Northam won was fraught with racial animosity, with Republican candidates courting Donald Trump's voting base through hardline immigration stances. "That's not something that you build overnight", Northam told the AP during a 2017 campaign stop while describing his relationship with the black community.